Telephone: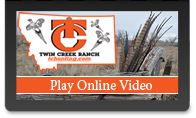 Check out these great articles and videos on Twin Creek Ranch
Cuisine and Recipes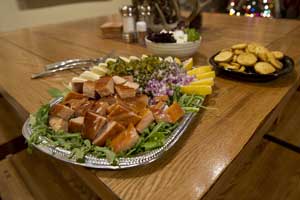 Twin Creek Ranch Pheasant with Olives
4large pheasants 2.5-3 lbs. each—breast halves
½ cup olive oil
1cup dry white wine
1cup cider vinegar
1cup brown sugar
8 cloves garlic finely chopped
8 scallions finely chopped
6 fresh basil leaves
3tbs. fresh parsley
4tbs. cracked black peppercorns
1 ½ green olives or Kalamata Olives, seeded and halved
2 Cups diced fresh plum (about 5 plums)
1 lb. of Angel Hair Pasta
3 eggs
1 ½ cup flour
1 ½ cup breadcrumbs
Wash and pat dry pheasant pieces. Put in Milk and marinade for 2 hours. Dredge in bowl of flour, then egg, then breadcrumbs and fry to brown
Put in Crock pot and add oil, wine, vinegar, brown sugar, garlic scallions, basil, parsley, pepper, olives and 1 cup of plums. Turn crock pot on high for about 4 hours, or 325 in covered oven dish for one hour.

When you start your pasta, put the remaining plums in crock pot.
Serve over angel hair pasta.
Duck Fingers

Duck breast
1 cup flour
1 cup breadcrumbs
2 cup milk
1 egg
sprinkle of garlic, thyme, and salt and pepper Slice the breast into long strips, combine the spices, egg and milk together and marinade the duck in the milk mixture for about a couple of hours. Then get a deep frying pan with about 1/2 inch of oil at medium high temp. Take meat out of milk and egg mixture, and dip in flour, coat well. Then dip back in milk. Then dip in breadcrumbs to coat completely.
Put in canola oil to fry, flip after a minute to brown other side, and then take out and let it drip excess oil on to paper towel. The pieces of duck strips don't take more than approximately two minutes to cook on each side. Salt and pepper to taste.

Buffalo Chili

2 lb of ground buffalo
1/2lb of sausage
1 onion chopped
1 can of chili peppers
3 kinds of your favorite beans( 1/3 of a bag of dry beans or a can). I use red kidney,black and pinto. So all together you have 3 cans of beans or a full bag of dry beans.
1 lg can of tomatoes
1can of tomato sauce
1/2 tbsp chili powder
1tbsp of cumin
salt and pepper to taste
Fry up your burger and sausage with the onion, in the pot you want to use for your chili. Once browned don't drain, add all of the other ingredients stir. Add water to your desired thickness, start with a cup.
Let simmer for a bit and it's done. We like to top it with cheddar cheese and sour cream. Served with sweet cornbread.